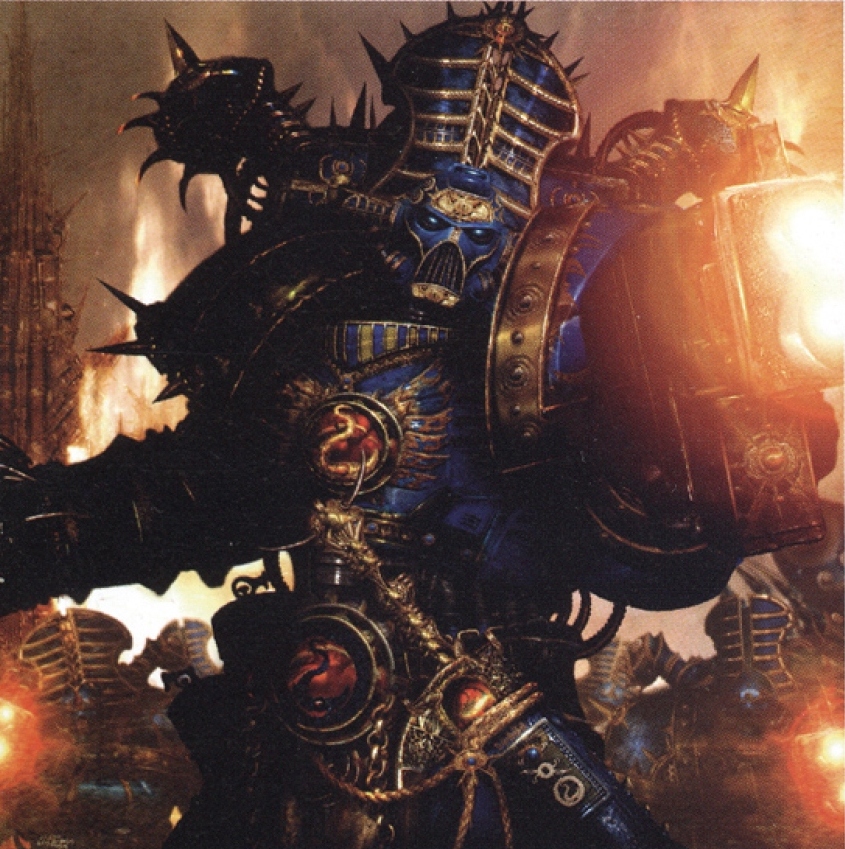 Hey all! Matt here, from Blood God Gaming (
bloodgodgaming.blogspot.com
), to open a discussion via a multi-article series, based on the idea that Chaos Legions, as they are now, can in fact be fielded in flavorful and interesting ways! So without further ado, let's jump right into the first subject of our article series, the Thousand Sons.
First things first, the Thousand Sons have always been a less numerical legion to the others, even back in the days of the Great Crusade. After the Rubric of Ahriman, that is even more pronounced in the current setting of 40k, with small numbers of highly durable Rubric Marines led by potent and clever Sorcerers of Tzeentch, whose mastery of warp-craft makes their loyalist equivalents look like petty parlor tricks in comparison.
So, in order to field a Thousand Sons Legion in the 40k setting, one must take into account the condition of the legion as it is now, and the mindset of those leading it. This is not a "run forward and punch everything to death" type chaos army, but rather a tricky "drown 'em in free minions" force heavily reliant on psychic power and specialized shooting. More on that later.
We'll need a core for this Thousand Sons legion, and to stay true to fluff, we'll need a Sorcerer with the Mark of Tzeentch, a Force Maul, Mastery Level 3, Veterans of the Long War, and a Spell Familiar, as our HQ. I personally also like Terminator Armor and a Sigil of Corruption. His mark then unlocks Thousand Sons as troops, of which we'll be taking two squads of ten in a rhino.
The next issue we need to address is that any Chaos Champion worth his ceramite is going to have a big awesome retinue to soak hits and keep him alive. A lot of people miss rubric terminators, in my opinion, so let's try and get as close to that as we can. For our Sorcerer, we'll be taking a unit of 5 Chaos Terminators with the Mark of Tzeentch and the Icon of Flame. I would also model them holding staves to go with the legion's psyker flavor. Power mauls are great support for soul-blaze combi-bolters against the intended target of anti-horde.
Already we have six terminator bodies with good invulnerable saves and decent anti-horde, covering the Thousand Sons squads which can handle anti-power-armor equivalents. With that and our base five warp charges, now it's time to look at Daemon Allies, the key to really making a mono-god legion work in the 40k setting.
So now with our points remaining, we now need to look at making our psyker army more psyker-y. Being a "bag of tricks" type force, we will need lots of warp charges to pull off the shenanigans it needs to succeed. Daemons of Tzeentch are both the fluffy option and the best psyker option a Thousand Sons army can bring. So let's talk gribblies.
We'll need two Heralds of Tzeentch with Mastery Level 3 to start. You can add upgrades like loci and rewards as you see fit, but for the sake of points I'm laying out the bare bones first. Two units of 11 Pink Horrors should accompany your heralds. This gives you ten more warp charges for a total of 15 before the D6 roll, with a potential of 17-21 during the Psychic Phase.
With the points remaining, we now need to both protect and support our investment to make sure that they can stay alive long enough to do what they need to do. Anti-air support will be needed, and two Helblades with the Helstorm Autocannon upgrades or a Chaos Fire Raptor with the Reaper Battery and Daemonic Possession cover our flyer needs. Notice I will be dipping into Forgeworld Units throughout this article series. This is not a "how to crush at tournaments" type article, but rather a means of fielding a flavorful, yet strong force that can stand on its own two feet in friendly games or pickup games.
Back on topic. With the remaining points, one option to fill out the list is two Forgefiends, covering mid range high strength shooting. With those remaining points, the Portaglyph is a great option to summon in more Horrors for spell / warp charge replenishment, leaving enough leftover for Dozer Blades on your Rhinos (necessary, in my opinion). So let's take a look at what we have and talk a little bit about how to use it on the field of battle:
Thousand Sons Combined Arms Detachment w/ Chaos Daemons Allied Detachment: 2,000pts
HQ:
Chaos Sorcerer
-Mark of Tzeentch
-Veterans of the Long War
-Terminator Armor w/ Combi Bolter and Force Maul
-Sigil of Corruption
-Spell Familiar
Herald of Tzeentch
-Mastery Level 3
-Exalted Reward (Portaglyph)
Herald of Tzeentch
-Mastery Level 3
Troops:
Thousand Sons
-5 Extra Thousand Sons
Thousand Sons
-5 Extra Thousand Sons
Pink Horrors
-1 Extra Pink Horror
Pink Horrors
-1 Extra Pink Horror
Dedicated Transports:
Chaos Rhino
-Dozer Blades
Chaos Rhino
-Dozer Blades
Elites:
Chaos Terminators
-2 Extra Terminators
-Mark of Tzeentch
-Icon of Flame
Fast Attack:
Chaos Fire Raptor Gunship
-Reaper Battery
-Daemonic Possession
Heavy Support:
Forgefiend
Forgefiend
Now to figure out how to use this bugger:
For those of you that play MTG, this list functions like those blue decks that take a while get going, but by mid to late game they are terrifying. You'll want to deploy your Rhinos and your Forgefiends out front as distraction units and keep your psyker units screened behind. If your opponent neglected to bring a ton of AP2 weaponry, you can get away with sticking the Sorcerer and his Termy buddies out front, too.
For psychic powers, this is where it gets a little tricky. For your Aspiring Sorcerers, you could take summoning as a last resort back-up (sac the Champ Sorc to get a squad of horrors back in the game). Otherwise, an extra tzeentch power for extra mind bullets is not a bad option.
You'll want your HQ Sorcerer rolling on Biomancy, gunning in particular for Iron Arm, Life Leech, and Endurance. If he doesn't get them, that's fine, the unit's balance between "bullet magnet" and "anti-horde" just shifts more in the "anti-horde" direction with Biomancy's witchfires and maledictions. Positioning order should have your icon-bearer second to last with your Sorcerer in the back. However, his abilities should not be the first you focus on.
Your Daemons of Tzeentch are where you want your Malefic Daemonology. Have each of your horrors roll on the Malefic Tree, and if they don't get Sacrifice, Incursion, or Possession, stick the Summoning Primaris on them instead. You could go full malefic with your Heralds, but I personally like a mix of Prescience, Summoning, and then one extra roll on Malefic. The Tzeentch Primaris powers of both Marine and Daemon Flavors should be used last or if you really need the extra punch.
Your focus with Malefic should be bringing in what Thousand Sons lack: numerous expendable bodies. Summoning should be your go-to in that regard, with other powers secondary to that. Sacrifice is good for adding more heralds to the pool or replacing lost ones. You could even get your portaglyph back should you lose it. Possession is nice as a trap-card maneuver. Scare your opponent with a greater daemon when you're cornered and use it as a giant distraction to swing the game back in your favor.
As for what to summon, that is where you can throw the door wide open while still staying fluffy. Since Thousand Sons are the mortal masters of sorcery, you can unashamedly throw daemons of any alignment at your opponent. This is where the "drown 'em in free minions" comes from. Your entire army can reliably bring in two squads of lesser daemons per turn to compensate numerical disadvantages, enough to make for a challenging fight without, in my opinion, going over the top.
As a final note, this army is slow moving, but should never be standing still at any point in the game. Since it dominates as hard as it does in the psychic phase, most of your units should be moving and running in their respective phases. This army also works better with a more terrain heavy board. That said, nobody should be playing on Planet Bowling Ball. Terrain is what balances out shooty armies vs. not-shooty armies, so don't skimp on it!
Tune in next time for our second installment of "To Field a Chaos Legion", featuring none other than the World Eaters!!